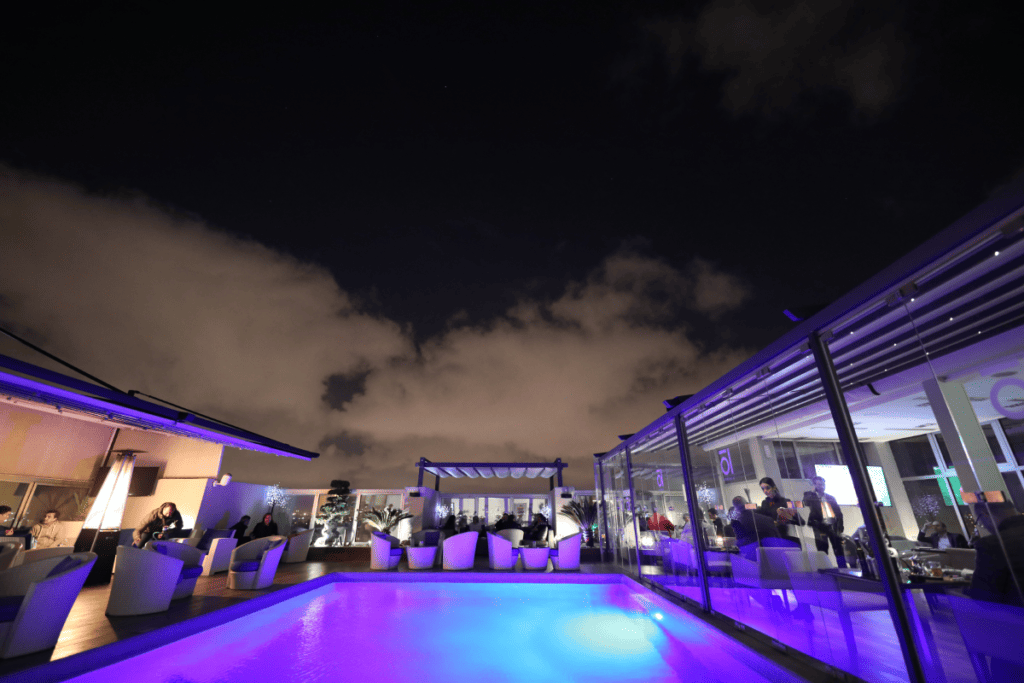 Your backgarden may become a lovely sanctuary with a brilliantly illuminated pool, creating a tranquil setting for nighttime swims, get-togethers with family and friends, or even a special date night. Pool lighting is the way to go if you want to improve the beauty and functionality of your pool area. This post will examine 10 gorgeous suggestions for pool lighting that will not only illuminate your pool but also provide your outdoor living area an extra touch of flair and refinement.
LED underwater lighting
Due to their energy efficiency and adaptability, underwater LED lights are a popular choice for pool illumination. These lights can be mounted on the floor or walls of the pool, illuminating the entire space with a captivating glow. To create a mood or blend in with the surroundings of your pool, you can select from a broad variety of colours.
Fibre Optic Lighting
Using fibre optic lighting around your pool is a great way to achieve a refined and understated atmosphere. These lights can be installed in difficult-to-reach areas because they transmit light using thin fibre optic cable strands. They are ideal for pool edges and water features since they can be safely used underwater.
Pool lights that float
Adding flair to your pool is easy but effective with floating pool lights. These waterproof, floatable orbs can be positioned on the water's surface to produce a lovely reflection and a tranquil environment. You may pick the ones that best suit your style because they are available in a variety of sizes and forms.
Solar Powered Lights
Solar-powered pool lights are a terrific option for those that care about the environment. These lights automatically illuminate your pool area at night by capturing solar energy throughout the day. They are an affordable and environmentally friendly solution because they are simple to install and need little upkeep.
Wall sconces near the pool
Wall sconces can improve the ambience of your poolside area. Installing these bulbs on the pool's surrounding walls will cast a cosy, inviting light that matches your outdoor décor. For a unified look, pick fixtures that go with your overall design philosophy.
Lighted fountains inside the pool
Installing in-pool fountains with built-in lights will allow you to combine the calming sound of water with the brilliant illumination. These elements not only have a gorgeous appearance but also create a calm environment that improves your pool experience.
Lighting for Steps and Paths
By including walkway and step lighting around your pool area, you can ensure both safety and style. These lights serve as a guide for swimmers and visitors, reducing accidents while enhancing the beauty of your landscape. Choose low-profile fixtures so that you can still see your pool.
Lights That Change Colour
Consider color-changing lights to create a lively and entertaining pool environment. With the ability to cycle through a variety of colours, these LED lights let you give your pool area a lively, constantly-evolving atmosphere. For a party-ready ambience, some models even sync with music.
Deck Lighting for Pool
With carefully positioned deck lighting, you can draw attention to the architectural details of your pool deck. A warm and inviting glow can be created with recessed deck lights, post lights, or even rope lights, making your pool area the centre of attention in your outdoor area.
Features with Fire and Water
For a dramatic effect, combine the elements of fire and water. For evening gatherings and special occasions, add fire bowls or torches next to your pool combined with underwater lighting to create a mesmerising contrast.
To summarize, pool lighting offers a chance to improve the appearance and ambience of your outdoor space in addition to its practical benefits. There are numerous possibilities, whether you choose a serene, calming setting or a lively party scene. So, to create the backyard refuge of your dreams, get inventive and illuminate your pool. Don't hesitate to get in touch with your reliable neighbourhood electrician if you need assistance with the installation or have particular enquiries concerning pool lighting. You can relax and enjoy your pool area knowing that your pool lighting not only looks beautiful but also complies with all safety and electrical regulations.