What to consider when you have to label cables?
Labelling of electrical cables and keeping the labels in good condition is an essential part of any installation that involves Equipment.
Convenience
When something is wrong, it is highly convenient to have all your caballing labelled correctly when maintenance or repairs need to be done at home especially. It can make a difference in speeding up the process of finding problems, especially when a electrical technician needs to determine the fault quickly.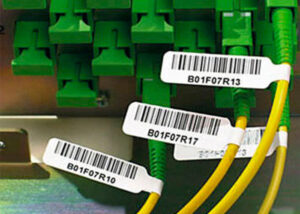 Safety
When contractors need to access cabling for maintenance or repairs, the information that is on the labels can literally save lives, as cabling carries lethal amounts of electricity.
Types Of Labelling
It is up to the service provider to choose the type and quality labels they'll be using. Sub-standard quality labels can fall off or fade with time, defeating the purpose of them being there in the first place. Durable labels are essential, as the labels don't need to be read frequently since electrical wiring generally doesn't pose problems regularly.
Heat Shrink Labels
This type of labels can either be printed by an industrial label printer or a third-party printer and are long-lasting and durable, making them a perfect choice. They are generally applied to the cable and shrunk down with a heat gun.
Self-Printed Sticky Labels
This option is highly convenient for Companies that make use of custom labels regularly and that contain information which is specific to the company and has exact text. This option is a more cost-effective and convenient choice. In case of a label getting damaged or lost, it should be replaced by professional electrician without delay. If you don't know about any electrician you can simple search it online with the query which is the best electrician company you got list of electrician company.
Conduit Tags
Conduit tags are usually utilised on smaller electrical cables. The only downside is that they can easily dangle off or get pulled off than the case is with labels. When various tags are used, they can get tangled and can confuse as to figure out which tag belongs with which cable.
Maintaining Of Labels
Labels need to be maintained and cleaned for them to be useful. If they become to dirty to read or gets damaged, then they serve no purpose. The labels can be cleaned and maintained as part of the normal cleaning routine. If they are situated in tricky places (i.e. behind walls or under the floor), they will have to be checked during a scheduled inspection.
What Information Is Usually Printed On Labels?
There is only limited space for printing on a label. Therefore, the company decide what they would like to include on the label. Common types of information that are usually included are:
Voltage – the level of voltage that is running through a cable is a critical safety consideration, as the voltage levels will define which type of safety equipment is necessary to access it.
Identification – some form of identification number to differentiate it from others.
Source connection areas – indication of where the cable is coming from (main power source, generator etc.).
Usage – where the cable is providing power to for example one specific machine.
Other – any information that may be of importance.
Must Read: